- BREAKING NEWS - BREAKING NEWS -
As of October 21, 2012 the bootlegs and tape/CD-R trading page of this site has been renewed as
- BREAKING NEWS - BREAKING NEWS -
... scroll down for the old pages, which (for now?) will remain as they are ...
---
---
Goodbye Jeffrey Lee
Jeffrey Lee Pierce (1958-1996)
The Gun Club
-- Discography -- Bootlegs, Tapes & CDR's --
-- Lyrics -- Articles -- Sounds --
-- Guitar Tabs -- Memorial --
Created by Ger Potze, March-August 1998.
last modified: October 18, 2003
---
PLEASE NOTE: UNTIL FURTHER NOTICE THIS SITE WILL NOT BE UPDATED ANYMORE!
As noted before, due to personal (happy) circumstances this site has only been slightly updated throughout the past year.
I hoped to add more the upcoming months, but time provides otherwise. Therefore I have decided to close the site until further
notice. It will not disappear (I pay for this webspace), but the information here is frozen as it is as I write this notification.
Somewhere in the future I hope to continue maintaining it as I used to do, and who knows I might even get up-to-date with it all again!?
Also, if you have sent me an email through the past year (or just before), and you haven't gotten a reply, be sure that it's received
and appreciated, and I will do my best to answer each and everyone of you personally. Just have some patience please.
As long as this website is being closed I also deleted the links to my email.
If you still want to leave a note or just say hi, I have opened a guestbook ...
Thank you,
Ger.
---
"Come down to the willow garden with me
come go with me, come go and see"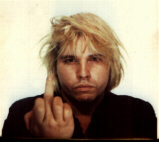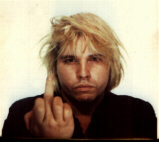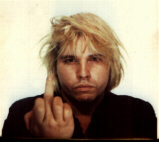 NEWSFLASH
August 2003
During the past months new CD-versions of the "Miami" and "The Las Vegas Story" albums,
including bonustracks, have been offered for sale (especially "Miami" has been heavily sold on eBay).
PLEASE NOTE that these releases are BOOTLEGS!!
Maybe the company or person who owns the rights of these albums will finally become aware of
the importance of rereleasing these CD's!?!
---
March 2003
In the near future,
Spanish El Beasto Recordings
plan to release a Gun Club tribute double vinyl album
"Walking With The Beasto",
featuring bands from all over the planet!
---
And here are still the older newsflashes for you to enjoy!