All releases are UK-releases, except otherwise noted.
US-releases are as The Charlatans UK to prevent getting mixed up with the US sixties band The Charlatans.

This discography is originally based on a page once made by Hans Gylling from Sweden, who didn't update it since September 1995, and on the discography as published in No. 193 (September 1995) of the Record Collector magazine.

Since then additional information was taken from various sources, a.o. some WWW-sites. One specific site I used to check out very often was Eirik Gudmundsen's The Charlatans' BackRoomWindow, and especially his news page for the latest stories and info on the band. I also used his discography page, as well as the discographies made by Sally at "http://www.uga.edu/~ucns/staff/jcobb/sally/cdisco.htm" (not available anymore), the one at Beggars Banquet, and the Scandinavian Indie Charlatans discography made by Erik Söderström.

Another source for additional information (especially on US promos), was the absolutely cool site Particles! - The Charlatans UK Page, maintained by Brian Green. It included loads of sounds, images, lyrics, and was the home of the Charlatans UK webring!
I would like to thank Brian especially for letting me use some of his scans. Thanks mate!

A good information base on the CHAR promos (see my promo page) and the Charlatans postcards (see my discography) was Sarah's "Here comes a Soul Saver on your record player" Charlatans site. Unfortunately it's gone since early 2002.

Also visit The Charlatans official website at www.thecharlatans.net !
Besides the people above and their websites, I would like to thank the following people for
helping me by providing additional information, scans, or anything else related to this site!

Peter de Jonge for providing the original "Sproston Green" single to scan and add the right information;
Chris Parkhill for additional information on some Japanese releases;
Jason for the tracklisting of the Japanese "Other Stories" CD, some promo information, as well as information on the US "Us And Us Only" CD-release;
Daniel Douros for information and the scan of the US "Sproston Green" promo, and information on the Weirdo Mindwarp mixes promo 12";
John Abbott for information on the "Blackburn", and "Europe 1991" bootlegs;
Scott Davis for all information (and more!) on the Rainy Tulip Production CD-R's (see the bootleg section);
Ken Alley for information on and scans of the "Europe 1991", and "Re-Tellin' Story" bootlegs;
Olafur Thorarensen for information on the "Glasgow Nights" bootleg;
Darren McDonald for information on the "Northern Soul Saver" bootleg;
Wim de Lange for providing some original CD's to scan for the compilations page;
Chihiro Nakajima for information on various Japanese releases, promo releases, as well as some scans;
Janine Kamphuis for information on some compilations featuring The Charlatans;
Adam for additional information on "The Charlatans UK vs. The Chemical Brothers" 2000 rerelease;
David Stachowiak for additional information on the same rerelease as well;
Cathryn Ellis for pointing me to more information on Mark Collins' previous bands The Waltones and Candlestick Park;
Mikko Kapanen for sending the URL with info about the 2000 rerelease of the Makin' Time live album "Time Trouble And Money" on Detour Records;
Anne Horton for some addtional release-information;
John Montiel for a highly professional copy of the "Some Fiendly" video;
Thierry Steuve for quite some additional release-info;
Ajay Sawhney for some rare promo information;
Karyn Koe for additional compilations info;
Bazza for additional pre-Charlatans information (especially Makin' Time);
Steve Foley for some additional rare promo information;
Chris Lees for additional release info on the "Between 10th And 11th" studio cut!

And anyone I unfortunately forgot to mention, but please don't forget, it's always appreciated!

Of course my own collection was a major inspiration for these pages!
---


Here are some other Charlatans websites, not mentioned before, but which link to this site:

| Davie's "Sweet Southern Bliss" | Graeme's "Nine Acre Court" |
| Gail's "No Fiction" | Lee's "Wonderland" | more to come ... |

This site is also part of the following internetdirectories, and listings:

| ARTISTdirect Network (formerly known as the Ultimate Band List) | Open Directory Project |
| Clickmusic - the source for UK music | OpenHere | Celebrity Search Engine |
| musicandmovies.co.uk | iq451 |

Do you have an internetlisting containing this Charlatans site, and I haven't put a link back, just contact me!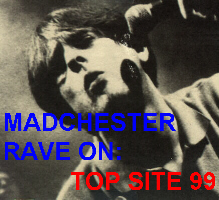 This site was a winner of the "Madchester Rave On Top Site Award 99"!
("whatever that means")

Any additional information will be gratefully received!
Created: September 1995, and last modified: October 18, 2003 by Ger Potze.